FOR THE SAFETY OF OUR STUDENTS
THE SPEED LIMIT ON EAST ROSEBERRY ROAD IS NOW 15MPH
FROM THE CORNER OF HWY 55 TO CITY LIMITS (BRIDGE)
This is a school zone and is subject to increased fines during school hours!
Greetings,
It is our pleasure to welcome you to Donnelly, ID. Our city is located in the heart of Valley County, ID approximately 89 miles north of Boise, ID with an elevation of 4,865 feet.
Donnelly has a multitude of recreational activities such as hiking and/or biking access to many beautiful alpine lakes, meadows, and mountain trails; kayaking, wake surfing, water skiing, rafting, snow-skiing, snowboarding, snow-shoeing, fishing, ice fishing and even antiquing and thrifting. We also have racquetball courts, a lovely park for children and families to enjoy, and a  beautiful farmer's market in the summer months.
Located in the heart of our town are some wonderful restaurants, sports bars, and small shops for you to enjoy.
We look forward to your visit!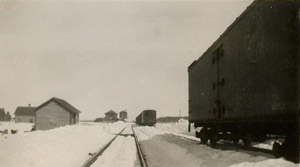 A little bit of Donnelly History
Donnelly is the youngest town in Valley County, founded in 1914. The land was donated by Colonel Dewey, named after the Colonel's long-time friend, Mr. Patrick Donnelly.
The town was founded two years after the establishment of a railroad depot on the railroad line running from Emmett to Mccall, following the railroad depot establishment the little town of Roseberry started to make a decline so, many of the old Roseberry building were moved to Donnelly via steam tractors and horse teams. You can still find some of Donnelly's original buildings still standing today, along Main St. (HW 55)
Everything to Know Before the Snow
The City of Donnelly's Public Works department is made up of three men. They are doing all of the snow removal in Donnelly with limited equipment and manpower. They continue to work hard to provide the community with safe passage during the winter. Here are some important facts to know about snow removal and the responsibilities of the citizens of Donnelly.
•  Plowing in most cases will begin when the depth is 3"and accumulating.
    Most often crews are up early beginning anywhere from midnight or after.
• Crews plow on a schedule starting with business corridor (Hwy 55) and heavily traveled roads in a predetermined pattern.
   Alleyways may be used for snow storage.
• The City of Donnelly proactively attempts to mitigate snow berms.
   Berms across driveway entrances are, however, the responsibility of the property owner.
• Streets and public rights-of-way should be clear of all vehicles during snowstorms to allow plows to do their jobs. During Plowing Season Parking on Main Street and all City streets is prohibited between 2:00 am–7:00 a.m.
   This ensures the safety of the crew, maximizes our efficiency, and protects your vehicle from Damage.
• Businesses and residents have a responsibility to dispose of snow on their own property or arrange for the removal.
   Blowing, pushing, ramping, shoving or otherwise depositing snow on any city Street of public right of way is against the law. DCC 8.15.030
• Business/Property Owners along Main Street are responsible for clearing snow and ice in front of their business/property. 
   DO NOT PUSH SNOW INTO THE STREET OR PARKING SPACES
Keep children off berms and prohibit digging or sledding on the roadside. Visibility is reduced during snow events, putting children in danger.
Your cooperation is appreciated.